The Lodge is situated at the edge of East Africa's Great Rift Valley System believed to be one of the geological wonders of the world.
The Lodge offers a beautiful scenery of the open plain of Queen Elizabeth National Park and the Albertine lakes of George and Edward.
Each cottage features an ample free air bone balcony which provides a wonderful view of the Game Park in the expanse of the Rift Valley.
The Fabled snow-capped mountains of the moon (Rwenzoris) hardly 50kms from the Equator can on a clear day be seen from the balcony of any of the cottages and is indeed a spectacular sight
Elephant : Family Cottage
Luxurious Beds & Bathrooms
The cottages are spacious and feature large en-suite bathrooms and beautiful showers. The Extremely luxurious twin and double beds in the cottages are locally crafted out of tropical hardwood.
Dining at the Rift Valley Game Lodge
Meals are served in the spacious restaurant overlooking the breath-taking scenery of the open plane of Queen Elizabeth National Park. Depending on the weather and preference, meals and drinks can also be served at the luxurious open garden bar (with a bar counter overlooking the fantastic view of the rift valley) adjacent to the restaurant.
Scenic Views from Rift Valley Game Lodge
Enjoy the spectacular reach-for-your-camera views of Queen Elizabeth National Park and sunset from the comfort of the cottage balconies of the lodge.
The Lodge is ideally located and hence a convenient base from which visitors can divulge in diverse activities which suit their tastes. The activities range from from Game Drives in the nearby Savannah Plans of Queen Elizabeth National Park to a less than two hour trip to the Ishasha sector to enjoy the amazing spectacle of the tree climbing lions. The relaxing and most enjoyable cruise along the Kazinga Channel which provides memorable big game viewing is about an hour drive from the Lodge. There are also excellent opportunities for bird watching and nature walks in nearby eco systems including Maramagambo Tropical Forest and along the numerous beautiful crater lakes (about 22 in all) which characterize Rubirizi District in which the Lodge is located.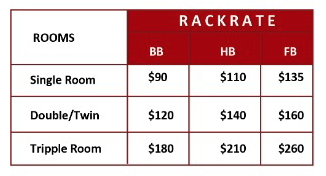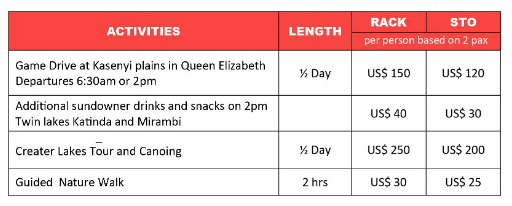 Depending on the season, the lodge sometimes offer special discount to residents of East Africa.